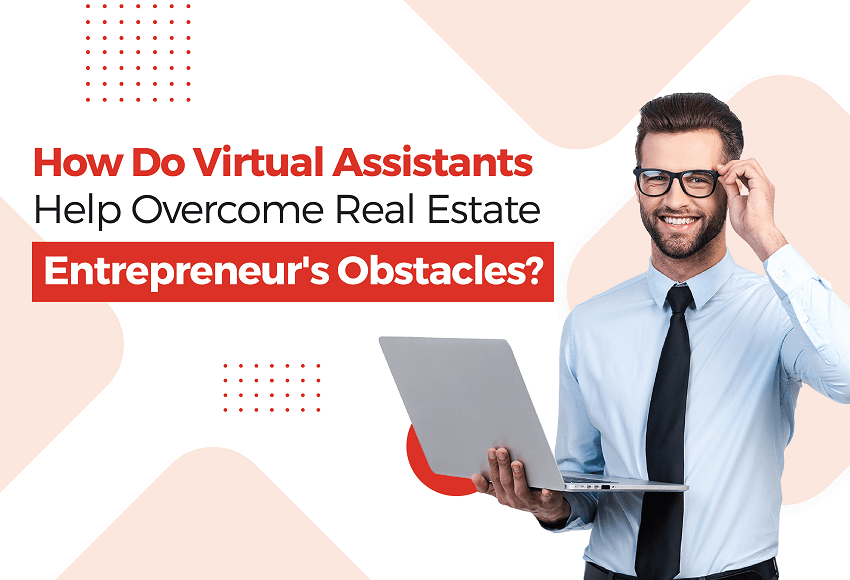 How Do Virtual Assistants Help Overcome Real Estate Entrepreneur's Obstacles?
Real estate entrepreneurs are people who exert double the effort than those of real estate investors. They plan the business and pick the right investments, and they often have too many tasks at hand, which can hinder their progress if they continue doing everything alone.
These entrepreneurs seize opportunities with an attitude of combined grit and passion. Hence, they are always on the go – meeting people, closing deals, expanding their network, looking for more opportunities, etc.
This is where virtual assistants can come in handy. Let us find out how.
What Is Virtual Assistant for Real Estate? 
As the name suggests, this virtual assistant works remotely. They can be from anywhere – a different city or a different country. A virtual assistant for real estate works exclusively for the client. Your virtual assistant will be dedicated solely to your business if you are an entrepreneur.
You can hand to your virtual assistant monotonous and time-consuming tasks. This way, you can focus on growing the business and looking for more properties and clients. 
They are like the old-school office secretaries, but the main difference is you are not working in the same place. However, your assistant can work according to your time zone and working schedule. 
When looking for a real estate virtual assistant, you must be clear about your business and your expectations for the qualified candidate. You also have to state your time zone, the hours of work, and the days when you expect your assistant to help you. 
The responsibilities of a real estate virtual assistant include the following:
Research market trends and listings

Manage your schedule and appointments; reconfirm or cancel your appointments

Follow up with clients

Create or design basic images or graphics for mailers

Post on social media

Reply to email queries using the template you have created

Respond to the live chat queries coming from your website

Manage your

social media presence

What Are the Main Real Estate Entrepreneur's Obstacles?
The main challenges that real estate entrepreneurs face depend on their tenure in the industry. Like in any business, the beginning is always the hardest. However, as you go along the venture, you will still face obstacles that you have to learn to dodge or collide with, depending on what you deem the results would be.
Here's a look at the main obstacles faced by real estate entrepreneurs:
1. Lack of Knowledge About the Industry 
Real estate education is a must if you want to succeed and last in the industry. You need to clearly understand the ins and outs and who's who in this kind of industry. You need to know about the world you are about to explore to help you make the right decisions. Finding a good mentor can be your first step toward learning about the industry, as well as the dos and don'ts.
2. Lack of Precise Action Plan 
Big-time real estate entrepreneurs always plan ahead. They examine their needs every single day. The action plan serves as a guide. But instead of a to-do list, it contains the tasks to be done, goals to achieve, and the ways how. You will also look into the plan to see if things are working right or if there are certain things you need to improve on or drop. You can only imagine how your day will go without an action plan.
3. Finding The Right Properties 
This is the gist of your business. You have to look into properties based on how you envision their worth would be years from now or once they have been developed. This is not an easy task. You have to have the eyes and heart to see a property's potential. It may help to rely on market trends and listings, but the final decision will still lie in your capability to see gold in a rock or a diamond hidden in a pile of rubbles.
4. Patience and Determination 
No easy jobs or businesses exist, especially when you want to succeed. You must always be prepared for the worst. No matter how good you are as an entrepreneur, you are bound to commit mistakes and make the wrong decisions. The goal here is never to get discouraged. You have to learn how to pick up yourself to get past every obstacle and go for the gold.
5. Managing Cash Flow 
You must be wise in delegating money to all aspects of the business. While most of the money will go to your investments, you have to leave enough to finance your marketing, networking, and paying the people working for you. You need to account for all the money coming in and stash the amounts needed for the different aspects of the venture.
6. Manage Time 
You will soon realize that as a real estate entrepreneur, 24 hours a day is never enough. There are too many tasks to do, problems to oversee, people to meet, and things to plan. It will help to make it a habit to wake up early. This way, you can have enough time for yourself and think about what you want to accomplish for the day before beginning the grind.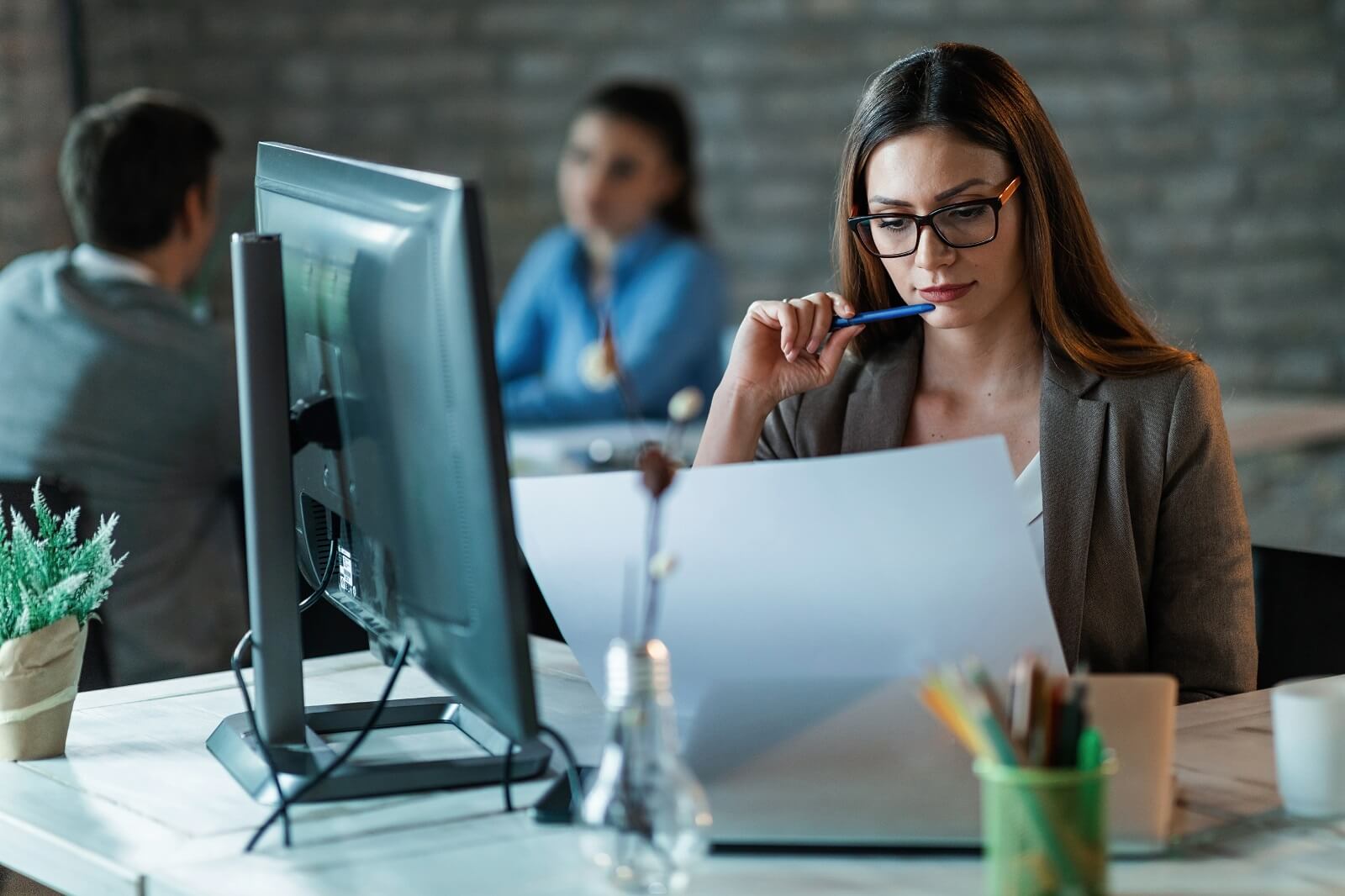 What Problems Do Virtual Assistants Solve for Real Estate Entrepreneurs? 
With so many tasks to handle every day, real estate entrepreneurs can't afford to miss out on their marketing plans, finding the right people, answering inquiries, and fixing their schedules. You can opt to do all these tasks on your own, but it is not recommended. 
You need to focus on getting the business going and pass the administrative tasks to someone capable of doing all these. These are only some of the major problems you may face that your virtual assistant can help solve.
Here's a detailed list of the other tasks your virtual assistant can effectively handle:
Property Research 
Property research applies various approaches to find details about the subjects. These approaches include definitions, data sources, value, history, and more. In real estate, it will come in handy to help you verify the prices of the properties you're eyeing. This will make it easier for you to decide whether or not the property is good to pursue or if it's going to be profitable in the long run or not.
Managing Your Property Listings
With so many properties you are interested in and already own, you must keep an efficient management technique to monitor them all. Your virtual assistant can use a program that you can access to check out the property listing and if they are being maintained, need certain upgrades, or if somebody wants to negotiate a deal regarding one of your properties. You will see all those details in an updated listing your assistant will create for you.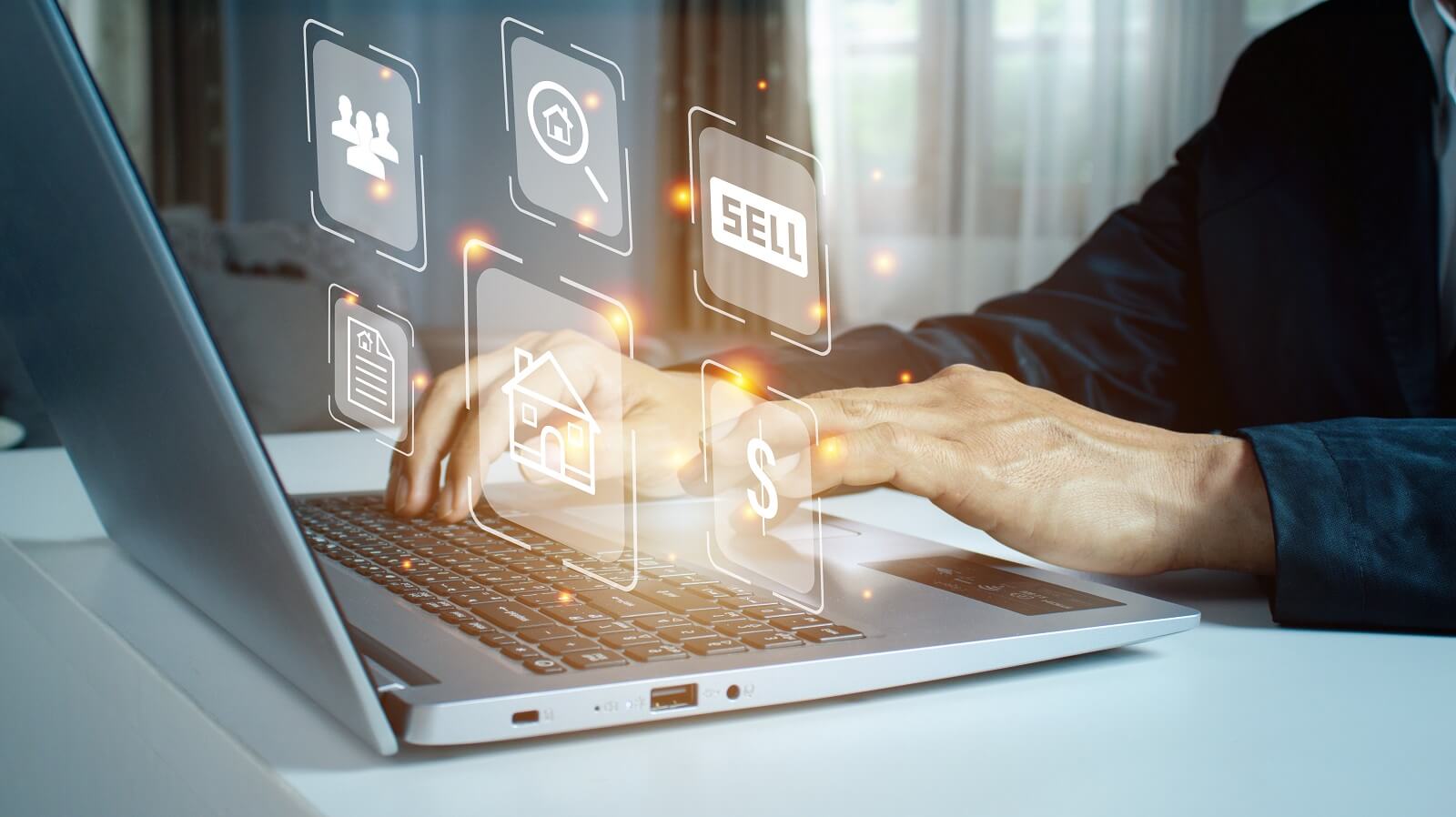 Real Estate Graphic Design 
This is something that needs creativity and lots of time to create. While you can make your own, you will need to cut some time off from your precious schedule to sit down and think of a banner that would sell your business. 
Real estate graphic design is something that your assistant can post online as a marketing tactic. This can include a variety of stuff such as real estate banners, photo editing, brochures, flyers, and more. 
Property Skip Tracing 
There are many distressed properties that you may be interested in pursuing. They may be forgotten, set aside, or abandoned by their owners. Your virtual assistant can help you with property skip tracing, meaning they will trace the rightful owner of the property. They do this by locating the owner's name, address, email address, as well as phone number.
This way, they can set you up with an appointment, and the rest will be up to you.
Organization & Scheduling (Phone Calls, Project Management, Meeting, Etc.) 
A hectic day means a thriving business for a real estate entrepreneur. However, you can't do it on your own. While you may be the best boss, you can do all things at once. You need a reliable virtual assistant that can make your schedule organized. They can handle your phone calls and give you only the urgent ones. They can deal with project management, attend virtual meetings until you are available, and manage people.
Lead Follow-Up 
Your business thrives because of your clients. So no matter how big-time or ordinary they may seem, you have to follow up with them once they have shown interest in dealing with you. These leads may come from different sources that you cannot monitor on your own. 
They may have posted inquiries on your website, social media sites, or emails, or they may have also called in and are all waiting for your reply.
Real Estate Marketing 
Marketing is crucial in real estate. You have to get the word out about you and get the attention of probable clients before your competitors beat you to it. Your virtual assistant can handle digital marketing, including posting on your social media sites. They can also handle customer service, so your clients won't feel neglected or snubbed.
Administrative Real Estate Tasks
Your assistant can make things easier for you. In particular, they can handle the administrative tasks so you can focus on dealing with clients and looking at the properties. These administrative tasks include updating office policies, maintaining procedures, and keeping an effective filing system. They can also write and send out forms, faxes, letters, correspondence, and emails.
Apart from that, they can also render a handful of services. These services include DocuSign services, lead generation, and even website maintenance.
Real Estate Data Entry 
Documents can consume too much of your time if you make and handle them. Your virtual assistant can deal with and manage your legal reports, property valuation documents, property data entry, and different correspondence. They can also submit reports on commissions and sales. All you have to do is check their work and monitor what you need to work on and improve.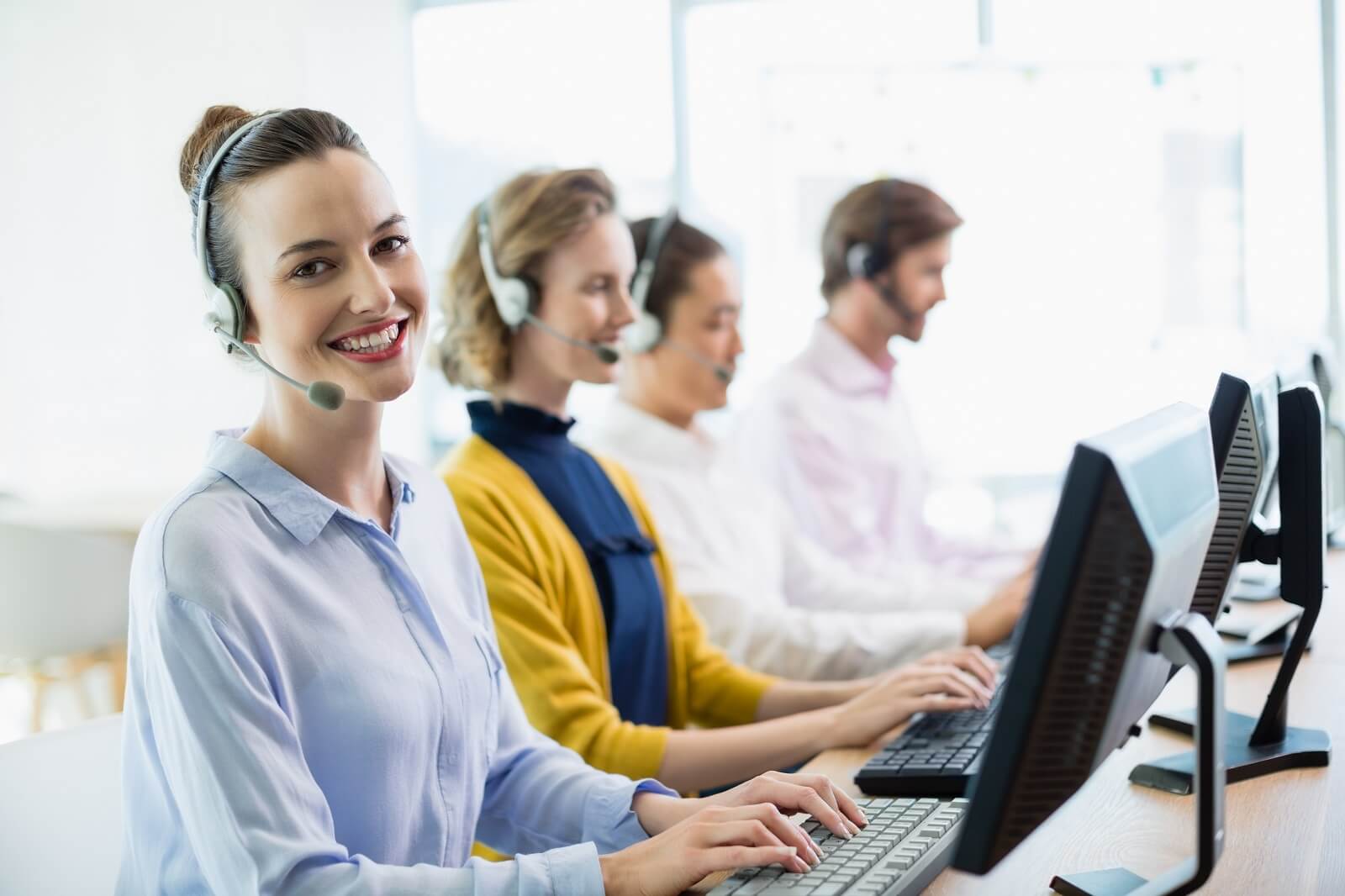 What Are the Key Benefits of Having A Real Estate Virtual Assistant? 
Having a real estate virtual assistant offers many benefits, including the following:
Having an in-person assistant may be more expensive than hiring a virtual assistant from other parts of the globe. Aside from spending less on getting a virtual assistant, you can thoroughly screen the candidates online before settling with someone you think is most suited for the job.
No matter where your virtual assistants are situated, they are trained to work on their boss's given schedule and time zone.
Virtual assistants can do many tasks at once. You only have to give them time and resources to accomplish what you want to get done.
Getting your schedule, listings, and finances fixed will make it easier for you to focus on your job in real estate and boost your earnings.
It is easier to plan and execute business expansion when everything is going smoothly with the help of your assistant.
Here Are Some More Advantages Of Working With A Virtual Assistant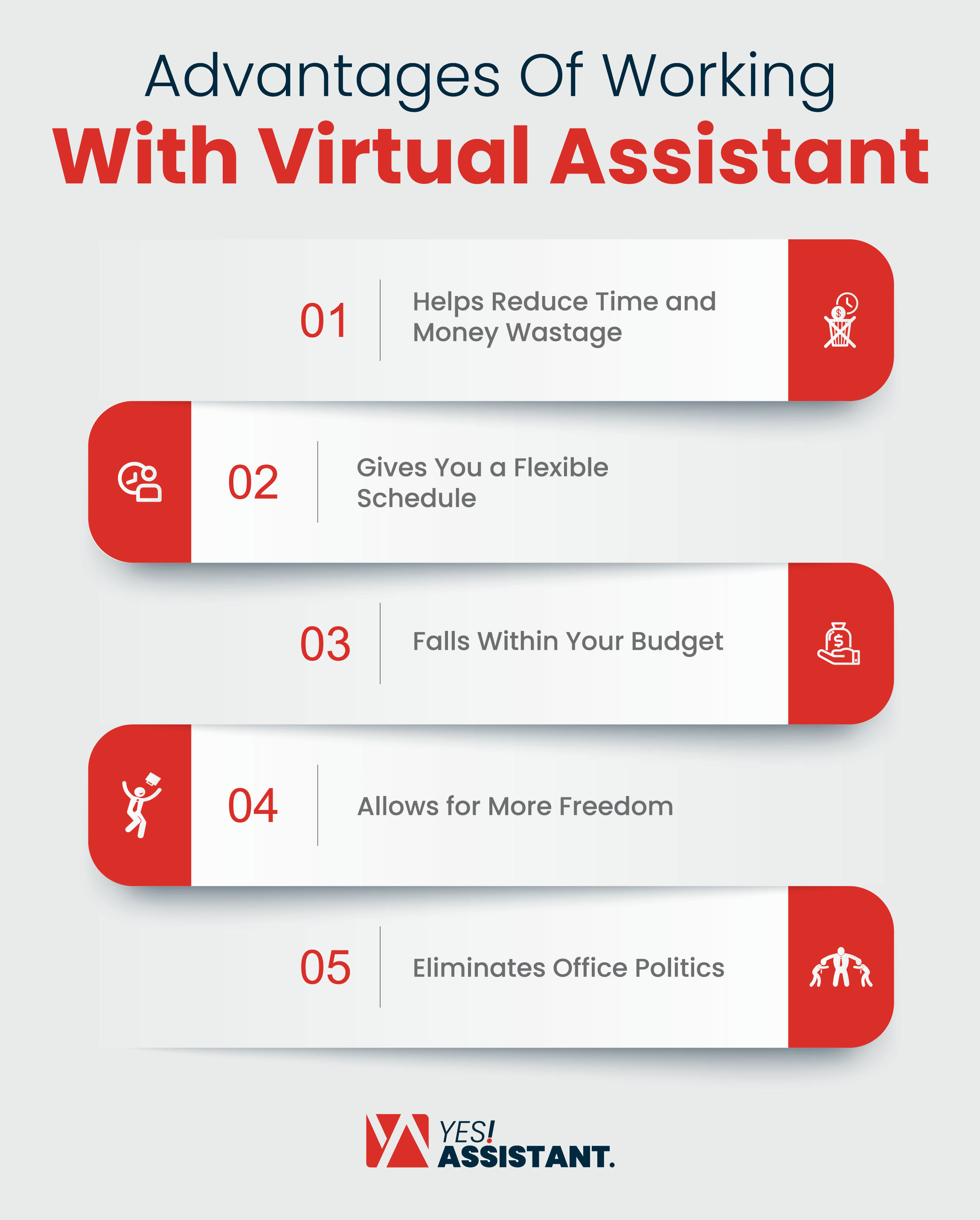 Conclusion 
You can get a highly educated virtual assistant who knows a lot about the real estate industry. You can delegate to them the tasks that you can no longer handle to make things more efficient in your business. 
A good assistant is passionate about seeing things work out for your company. They want you to succeed and will help you through it. No matter what obstacles you may face in the industry, your virtual assistant can make the load lighter and things easier to accomplish.