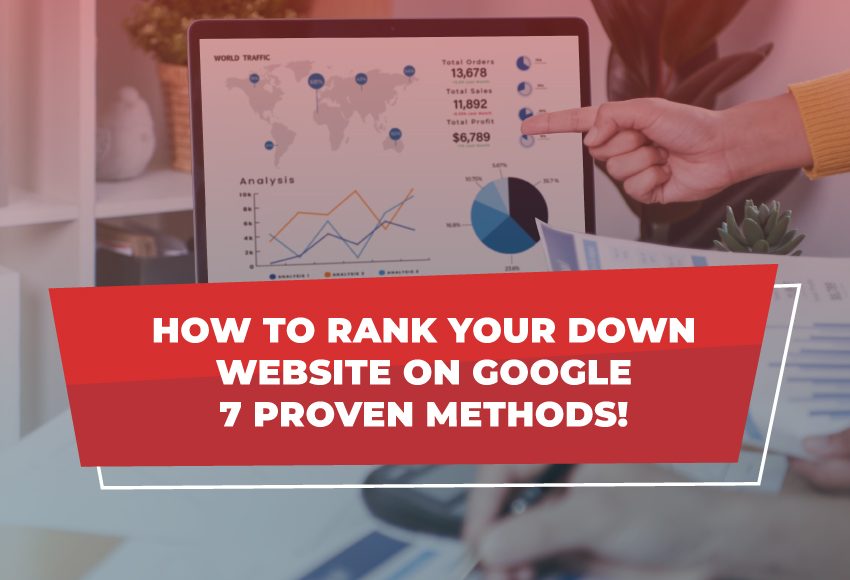 How to Rank Your Down Website on Google : 7 Proven Methods!
Your research ability is good, you can produce quality content, and your contents are potential enough to provide enough value. But still, Google doesn't rank your website!
Why? Because, in most cases, you're concerned about creating quality content, you need to remember what exactly search engines like Google want!
Yes, content is definitely king! But, as Google is not a human being at all, it doesn't have the ability to check the quality of your content like a human and rank it on the SERP manually.
Back in 2006, Google announced there are 200 factors that Google considers before ranking a webpage.
It clearly indicates there is no chance to be judgmental and consider only one or multiple particular issues behind the ranking fall.
But what are the exact reasons?
Keep engaged with this discussion, and you will learn-
Why is your website losing rank?

How to rank your down website?

How to improve on-page, off-page, and technical SEO?

Practical strategies to improve local SEO
7 Reasons Why Your Website is Losing Rank on Google SERP!
Before knowing the ranking trick, you should identify for what exact reasons Google is not loving your website anymore.
The day (back in 2015) when Google introduced Rank Brain, the whole SEO industry became more conscious about quality content production as RankBrain intensely monitors user satisfaction before ranking a particular content.
But apart from that, there exist some other natural and technical reasons for the vast ranking fall. But from the extensive list, we want to share some significant reasons behind this happening.
Natural Reasons
The ranking is not permanent – it acts like a variable, as so many competitors exist on the web! But you can be scared only sometimes. Instead, sometimes ranking drops for the following (natural) reasons that are not harmful to your site.
Algorithm Update:

According to the official announcement, Google brings changes in their search engine 500 – 600 times each year to create better search results on SERP. During these changes, your website might lose its ranking, but that's OK for your site!

Competitor Improvement:

As you're not alone in your niche, your competitors continuously try to get your positions on SERP. If they succeed, naturally, you'll lose your rank!
Technical Reasons
Your ranked website might lose its rank for some technical reasons as well. If you find the following technical reasons, fix those as soon as possible to avoid getting a penalty from Google.
Content Customization:

It's OK to update your content based on contemporary information updates and contextual changes. But if the changes break the SEO-optimized format, that might affect your ranking on SERP.

Core Web Vitals:

If your site has some significant web vitals such as

LCP, CLS, and FID

, it's time to fix these by a professional who is expert enough to do the job without harming the SEO friendliness.

Bad Linking:

Linking with spamming sources and using other black hat techniques are strongly discouraged by Google. There are thousands of cases where Google penalized their websites for such activities.

Frequent Customization:

It's a good practice to keep the page as it is when Google is tracking your content to observe its performance. Frequent UI and content customization interrupt the seamless process. Especially when your site gets ranked in featured snippets, it'll not be wise to customize the content without any significant importance.

Hosting Issue:

According to Google, if your website needs more than 5 seconds of reloading time, your site is not performing and user-friendly at all. It will increase the bounce rate and eventually will affect your ranking. And bad hosting service is the first reason behind this issue.
7 Proven Methods to Rank Your Down Website on Google
It's a technical process to rank your down website again on Google, but it's not an overnight process. But the good news is that the overall process is sequential and easy enough to perform as a non-techy person.
In the discussion below, we discussed 7 technical things you should implement to improve your ranking on Google.
Monitor Your Domain Name Factors
Even though it's a minor thing to consider, Google counts it sometimes to understand how much importance your website deserves when it comes to the ranking game. Consider the following regarding your domain if you want to be on the winning side as well!
Choose a Reliable Provider:
Before opening your website, try buying a domain from a reliable provider with a decent customer satisfaction rate. In this regard, you can consider some other factors, and these are –
The quality of the after-sales service

Convenient setup procedure

Domain transferring facility
Implement a CDN
Website speed is one of the major concerns for ranking your down website on Google. And here comes the role of CDN (Content Delivery Network).
Implementing CDN will allow your user to get their desired content on your web page from the nearest CDN server, which eventually significantly reduces the loading time.
Consider Domain Age
Opening your website with a brand new domain could be a good start. But buying an old domain can be another worthy option if you want to get some extra ranking boost.
In that case, you're should consider the following before using it –
When the domain was registered

Where the domain was used

If there exist any ranking penalty issues or not
Improve Your Technical SEO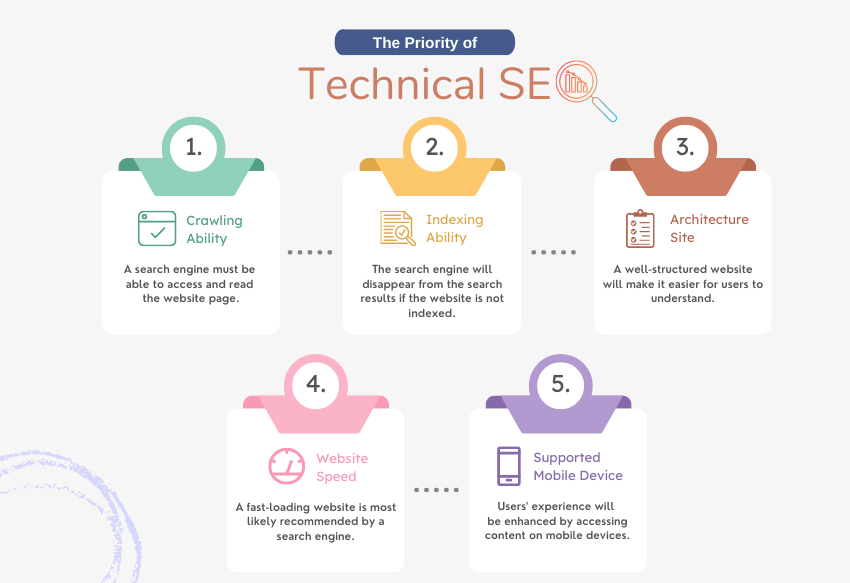 Technical SEO means the set of work that you should do before making your site live on Google. The foundation of your website determines how Google will crawl and index your website.
For better ranking possibilities on Google, check out the following step-by-step procedure so that you improve your technical SEO for your down website.
Step-1: Improve Site Structure and Navigation
When it comes to user satisfaction, reader/user friendliness comes first. To improve your user satisfaction, you must prepare a clean structure and handy navigating options so users can visit all the pages without facing any inconveniences.
For the same purpose, you can also perform interlinking between the contents.
Step 2: Crawling, Rendering, and Indexing!
Before indexing your site on Google, ensure all your pages are smartly interlinked so that the Google crawler can crawl all the web pages on your website.
When these things are done, you should initiate the indexing process where Googlebot (crawler) will visit your website, retrieve your web pages, run your code, and finally access your content to understand the structure of your site.
The fetched information will be sent to Google, and then by using its in-built algorithm Google will index your site.
Step 3: Thin and Duplicate Content
Google loves precise and value-providing content that can attain a high engagement rate. In the latest update on the "Google Developer," Google stated, "Write for the users, not for the search engine."
So it's always good practice to convey your message through a concise package, but not thin! Creating content of more than 600 words is a Good practice. 
On the other hand, avoid creating content on the same topic multiple times. Because when Google decides to rank your content when the quality is good, it will create clashes, and eventually both will not be performing well on the SERP.
Step-4: Page Speed Optimization
First and foremost, host your site on quality web hosting to ensure seamless speed and bandwidth. Then check out your page speed with the google page speed insight tool.
It will show any kinds of speed-related issues for both your mobile and desktop mode. Based on the report, fix those out ASAP. You can keep the following things in mind to get better speed optimization.
Image compressing (without distorting the quality)

Better hosting

Using CDN / MaxCDN
Step-5: SSL Certificate
SSL certificate ensures the encryption of your data while sending a request to the hosting server, and the server responds to the request. Enabling this feature makes your site more secure from hackers and spammers.
Following the easy step-by-step procedure, you can easily enable your SSL certificate that will act as another ranking signal for your website on Google.
Improve Your On-Page SEO
Even though most website owners skip the first step we've mentioned above, they pay great attention to On-Page SEO.
Here we've prepared a sequential guide that might help you complete the On-Page SEO task on your own!
Step – 1: Optimize Your Content Outline
As Google's Rankbrain is super conscious about user satisfaction, you should present your content in a reader-friendly manner for your audiences. 
Even in a couple of contemporary updates from Google named "Helpful Content Update" and "Product Review Update," they clearly mentioned content should be precise and easy to understand for the users.
To make it happen, take extra care about making SEO-optimized outlines that Google loves to rank.
Step – 2: Optimize Title and Meta Description
The first banner-like line of your content is the title. And your targeted/main keyword/keyphrase should be in the title. Try to keep the keyword at the first portion of your title. This will make your title SEO friendly.
You should also prepare a meta description within 150 – 160 characters following the same procedure.
Step – 3: Use LSI Keywords in Content
Besides using your main keyword in the content, you should use some other kinds of keywords that cover the related discussion of the main keyword.
For instance, if you are preparing an article on the "keto diet" the example of one LSI can be "keto diet benefits for the diabetic patient."
But remember, don't just put some random LSI in your content. Instead, after mentioning these, explain these LSIs in your content which Google prefers most.
Step – 4: Image Optimization
The images you'll use in your content should be small in size without sacrificing the quality and resolution. There exist some free tools as well that will allow you to perform this task.
Always keep your images in a "JPG" format that allows you to inject your main keyword and LSIs in those. This optimization is basic but effective for obtaining an extra boost on SERP.
Step – 5: Insert Quality Outbound Link
In every content, you should put 1 outbound link. And that third-party sites should be trusted. 
Let's understand with an example!
When we were preparing this content for you, some technical terms like LCP, CLS, etc., appeared that probably need to be discovered by you. To clarify these, we have linked an article from "Google Support" that you can easily access to get a better understanding.
This is called a quality outbound link, as Google is a trusted source to consider.
Step – 6: Improve Mobile Friendliness
In different statistics, it has been stated about 51% of internet users use their mobile devices to get on the web. About 46% use desktop computers. And the rest of the users use their tablets.
That clearly indicates optimizing for mobile devices is another significant concern in this regard.
So, how can you do that? Well! You should ask for professional help as this section is way more technical than other factors we have mentioned!
Step – 7: Keep Ideal URL Length
Make sure your content links are of ideal length as most SEO experts worldwide suggest keeping the length within 60 characters. If sometimes it gets hard to manage, try keeping it within 80 characters.
Note: Keep your main keyword in the URL as well. Cause the exciting fact is – this is the 46th ranking factor on the "Google 200 Ranking Factor" list!
Step – 8: Prepare Your Blog and Publish
If you have a clear idea regarding all the things mentioned above, now you can prepare your blog.
If you have a content team, guide them according to the discussion above. And prepare your worthy bogs that can bring tremendous results.
Step – 9: Core Web Vitals
There exist three vitals that influence your website performance and eventually the ranking as well. And these vital factors are 
LCP (Largest Contentful Paints)
CLS (Cumulative Layout Shift)
FID (First Input Delay)
And here is the table that will allow you to get when your site is performing fine and when you should work on it.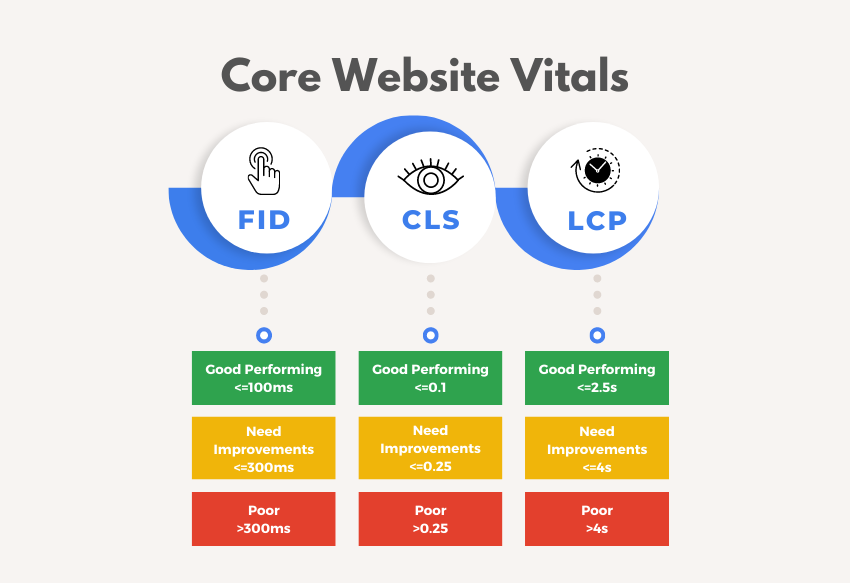 Improve Your Off-Page SEO
When you are done with On-Page SEO, initiate the Off-Page SEO process, as it is highly effective for getting ranked on Google.
To make it done, follow the sequential process!
Step-1: Generate and Submit a Sitemap
If your website is powered by a CMS like WordPress, Zoomla, etc., install any SEO plugin and enable it. The plugin will automatically create the sitemap for your site.
If your website is custom developed, create your sitemap manually from the official "XML Sitemap" site for free.
Then submit your created sitemap to "Google Search Console."
Step 2: Create High-Quality DA PA Backlinks
You might have to use some premium tools to find the sites with high DA and PA in your niche. After finding these, try to create backlinks considering the similarity of the traffic type between your website and theirs.
Step 3: Generate Foundation Backlinks!
Foundation backlink refers to the set of backlinks that creates your core backlink profile. To be more specific, foundation backlinks are mainly the supporting backlinks created to attain a ranking boost for the main keywords of your website to rank higher on Google SERP.
Your first task should be to create a list of subtopics of the main keywords. And based on these subtopics, create backlinks with platforms similar to your niche.
Step-4: EDU Backlinks
Edu Backlinks means creating backlinks on the official websites of schools, universities, and other types of official academic institutions. Contact them through cold Emails and try to take backlinks from them by posting on their site.
Step-5: Forum Backlinks
The fun of forum backlinking is – it's completely free, and you can do it on your own (without contacting the forum executives). Depending on your website niche, create a list of your forum and answer the others' queries. While answering them, try to provide the link of any particular post that serves the answer to any specific question.
Step-6: Guest Posting Backlinks
Guest posting backlinks have a significant impact on ranking on Google. In that regard, you should create a friendly network with website owners dealing with the same niche.
Offer them to publish guest posts on their site that contain a backlink for your site. And remember, always create your backlink from the high authority websites that are worthy enough to pass enough ranking juice!
Step-7: Question and Answer Backlinks
You'll find many websites, such as Quora, Answers, etc., where people ask their queries on any topic depending on their interests. You can find people asking questions in your niche on these platforms. While answering their queries, you can provide links to your web content that provide precise solutions.
Improve Your Local SEO
Local SEO is essential when you want to deal with lower competition. Especially when you are a business owner, local SEO is the most robust tool for you, mainly when you should serve your local clients.
Here we've briefly discussed some effective local SEO options.
Create Google My Business Page
Create a business page for your business on Google highlighting your brand name. To get better results on the search engine, add all the necessary information like precise location, official site, active hours, etc. 
If you have a physical presence in your business, try to upload some photos.
Online Directories/Citations
To improve trustworthiness, claim your business in other popular online directories. We want to let you know some of these in brief for your convenience. 
Apple Maps:

A similar thing to google maps, where you can register a new page for your business following the same procedure we have mentioned above.

Yelp:

A platform that publishes crowd-sourced reviews about companies. And it's widely known as the online directory to discover and connect with local businesses.

Yellow Page:

A telephone directory page for small businesses where users can find the direct business phone number of the desired company and contact them instantly.

Foursquare:

A giant business directory where 50 million users are active to discover great businesses. They have already attained over 2 million businesses that improved their business growth using the platform's strength.
Concluding Note
As the discussion is getting so long, we must conclude it here to avoid making it more boring! But your extreme patience in reading this super-long discussion proves you are determined to get impressive results.
But the unfair reality is – we can suggest some contemporary tips, and you can implement these to get decent results, but Google will constantly bring new changes in their algorithm. And for that reason, this discussion will not be the end of guidance regarding improving ranking on Google SERP.
So, keep yourself updated, research, and get to know what others are getting after implementing these, and then implement them to get your desired results.
Good luck!